The data are overwhelming this new era. The 30% of companies will close their doors shortly. The 55% will suffer internal structure changes, production modifications, expenses increase, payrolls declines, distributions and supplies chains alterations, revenue decrease and financial crisis accentuation. The 15% of companies are going into technology and digital transformation.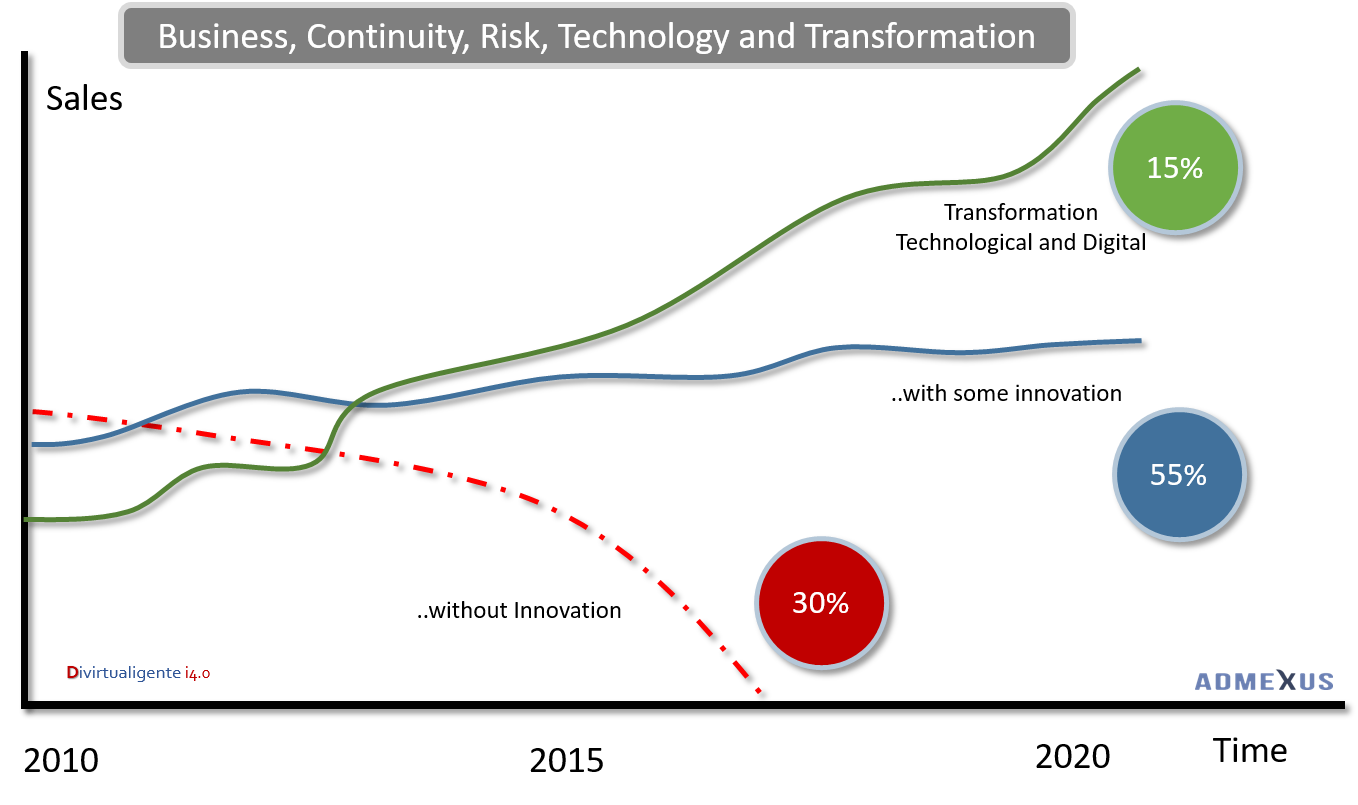 The data reveal a relationship between the companies' average lifetime and the technological changes, market variations and social behavior. If those companies are not implemented technological and digital transformation, the average lifetime is around 35 years. The projection for 2030 is about 27 years. The top 7 worldwide companies are corporations committed to technological and digital market. The first top 5 companies are located in United States. The annually average is 10 million dollars per capita.
The study show as well, companies that have disappeared in the last 5 years, based on market circumstances and lack of innovation, technology and digital transformation. It confirms, that companies without any innovation strategy, cannot survive.
There are companies that have fallen from the top 15 places in the last 5 years. They recognize the critical situation and immediately react to integrate technologies and digital disruptive business strategies, with the main idea, to avoid a precipitous decline.
The lesson learned shows, that technology and digital innovation has a very close connection with the sustainability, continuity, permanence and average lifetime of companies on today`s worldwide market.
Technification, is the main value added creation factor for local and international business based on technology and digital transformation approach, is the key tool for this new era that everybody needs to set in mind.
This modernization process is a complex and difficult to implement. It requires the support of consultants, specialists and experts on this Divirtualigente I4.0 topic. It needs to set a mind-set, knowledge, development vision, implementation, digitalization, connectivity, data science, algorithms, virtualization, artificial intelligence, training methods and lot of experience, among others subjects for correct implementation, all under Divirtualigente I4.0 manager expert.
The Divirtualigente I4.0 manager of Technological and Digital Transformation, is a certified expert responsible and capable to integrate the appropriate projects in the company. It uses a detailed strategy mapping, together with a systematic analysis of the value-added processes, set accurate plan and execute transformation activities under the financial cost assignment.
One of this methods applied by the expert, is the opportunities and threats funnel, shown below.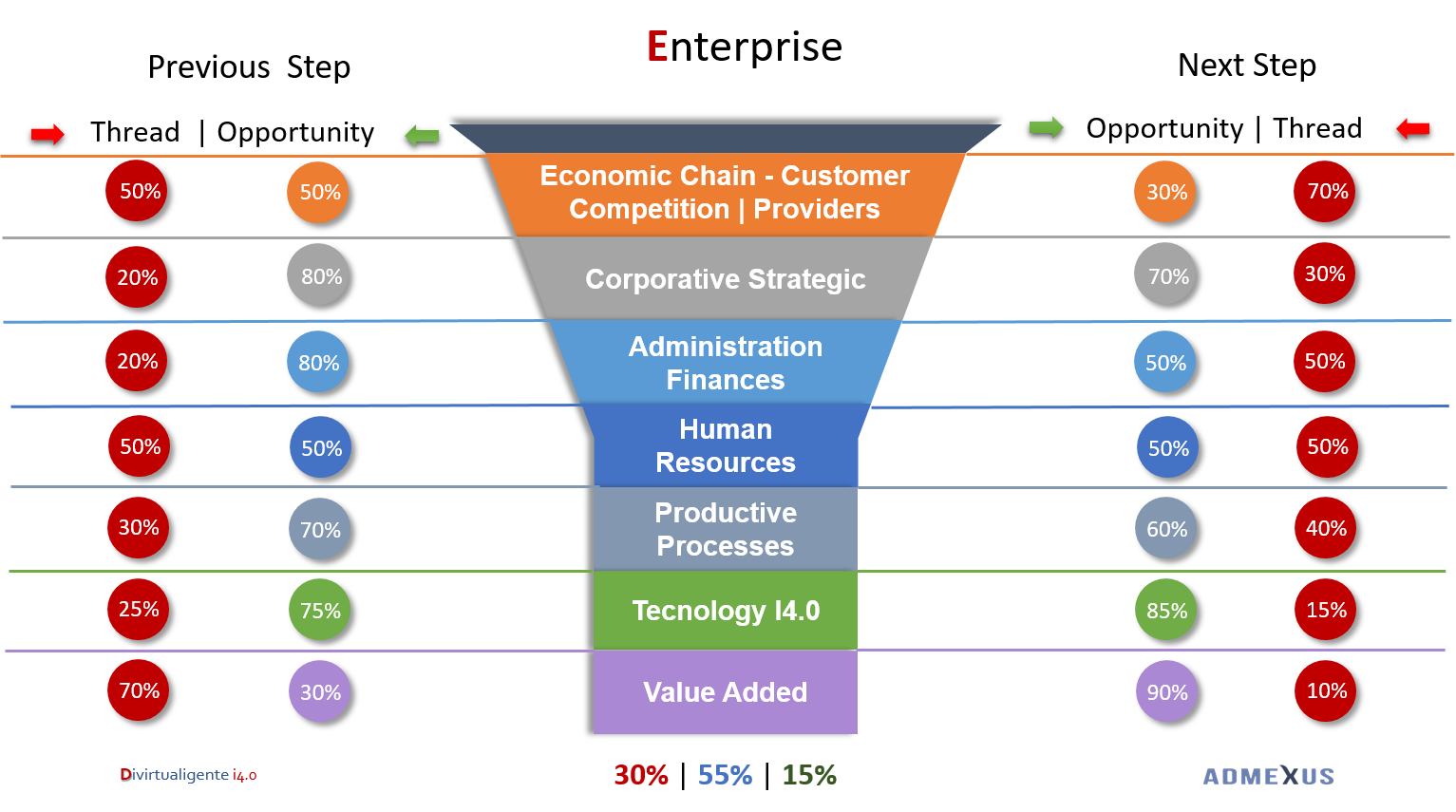 Another tool developed and use for the technification, are the 7 steps of Divirtualigente Technological and Digital Transformation, described below.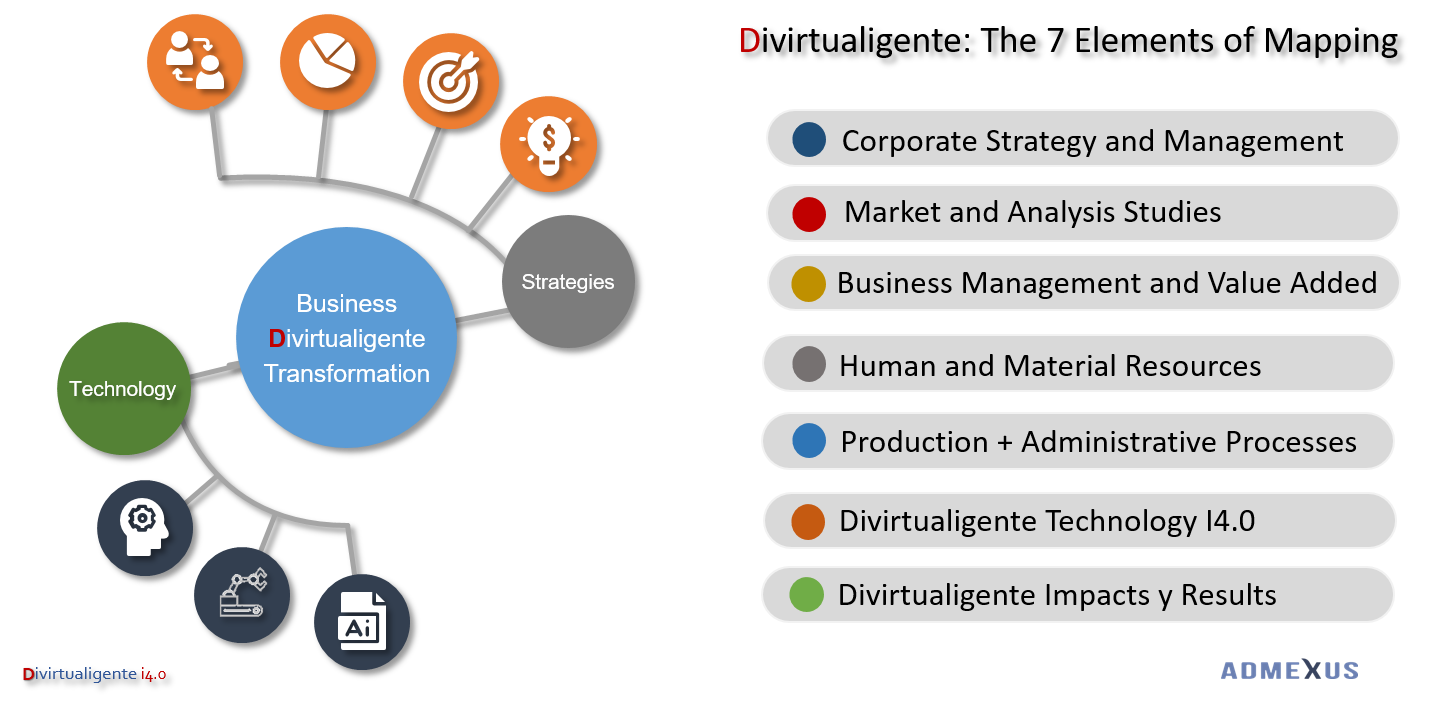 The 7 steps of Technological and Digital Divirtualigente Transformation
Establish an executive strategies with the following key tasks:

Mission and vision of technology and digital transformation (consultant)
Establish the goals and metrics to accomplish (consultant)
The essential and necessary technological and digital skills (manager)
Specific business plan for the topic of Technical Modernization (manager)
Implement the necessary financial and human resources (consultant)
Review ROI, market growth and technical transformation (consultant)
Risk Analysis, Quick Wins and Long Term Success (team)



Market, Clients, Suppliers and Economic Value Chains mapping

Market mapping and positioning
Marking methods and customer approach
Integration of new technologies in market strategies
Expected impact and continuous improvement



Business Management and Governance

Study and Analysis of administrative processes
Evaluation of financial support and cash flow
Integration of technologies in real time (Divirtualigente)
Digital and value-added processing
Cost and expense reductions
Real time metrics and reports



Human Resources and Materials

Integration of digital automated management processes
Human resource management under competence standard
Training in new digital and value-added processes
Evaluation of competitiveness and productivity metrics
Evaluation of new materials and processes



Production and administrative processes

Evaluation of internal and external value added processes
Evaluation of the technology used in the production processes
Divirtualigente mapping of value-added maturity levels
Planning for the integration of Divirtualigente
Human and technological planning of resources



Technology I4.0 Divirtualigente

Acquisition and integration of I4.0 of equipment and systems
Implementation of the technological and digital transformation processes
Start-up and evaluation of Divirtualigente systems and devices
Indicators + dashboards in real time. Production and administrative areas
Corporate structuring under elements of value added and modernization
Continuous improvement and Training



Value added by Divirtualigente methodology

Evaluation of the implemented Divirtualigente processes
Detailed analysis of impacts with real-time data
Evaluation of the degree of technification under the maturation mapping
Degree of success obtained in the implementation - Lessons Llearned-
Digital Continuous Improvements and Digital Lean Manufacturing
The application of these 7 steps process, give an immediately good key company metrics. The following figure shows some impacts related to the Divirtualigente transformation.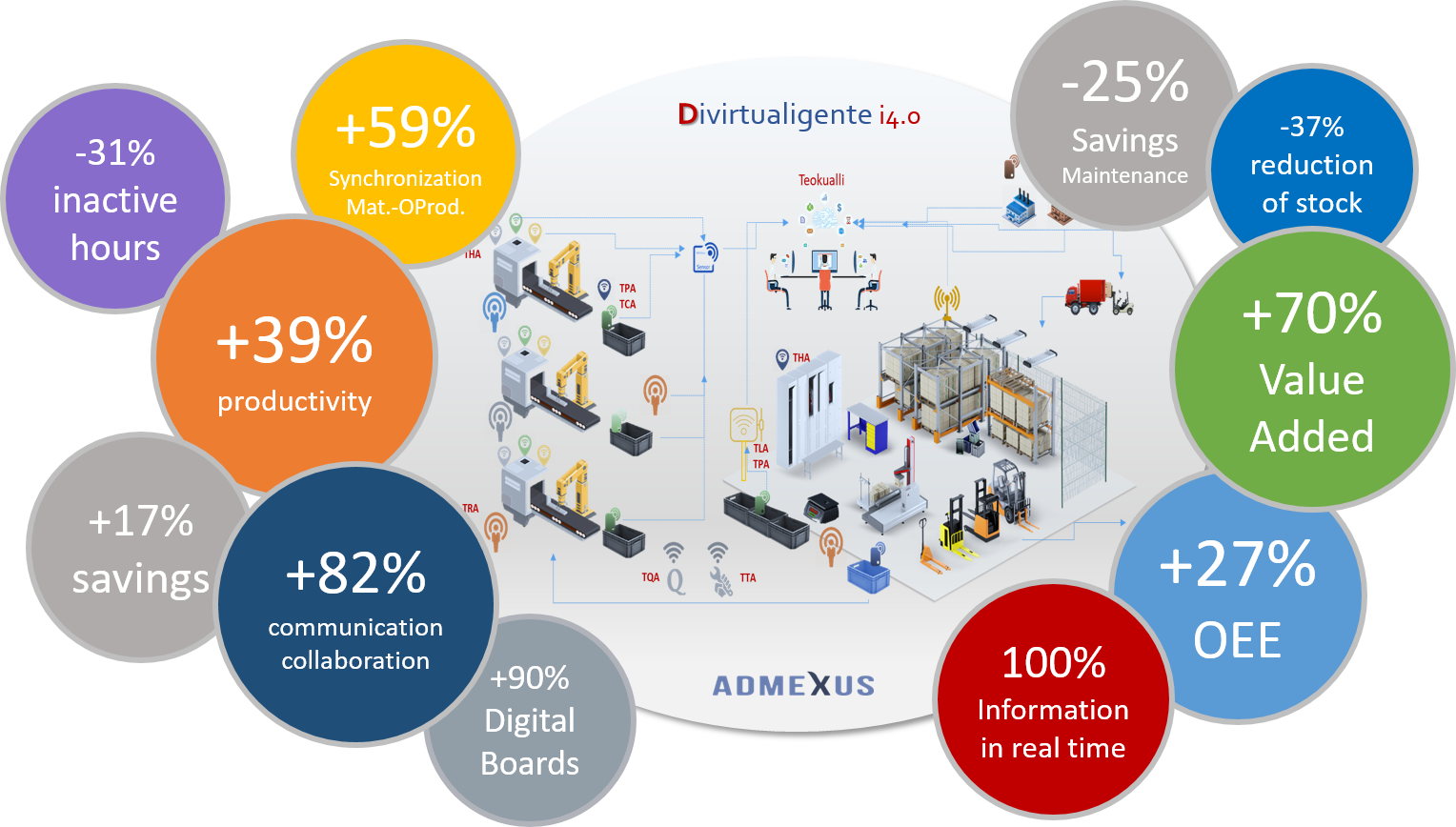 Finally, the previous methodology is a start-up reference for business transformation processes. For each themes, are a series of subsystems that must evaluated in detail and careful implemented, with the objective to obtain the desired results. Divirtualigente is the supporting tool to transform the company into the new technological and digital era.
Author: Octavio Fernández, President Mexican Association I4.0, ofernandez@admexus.com